Service Department
604 E. Oskaloosa St.
Pella, Iowa 50219
Phone: 641-628-4124
Toll Free: 800-798-2910

Hours of Operation

Mon: 7:30 AM - 5:30 PM
Tues: 7:30 AM - 5:30 PM
Wed: 7:30 AM - 5:30 PM
Thurs: 7:30 AM - 5:30 PM
Fri: 7:30 AM - 5:30 PM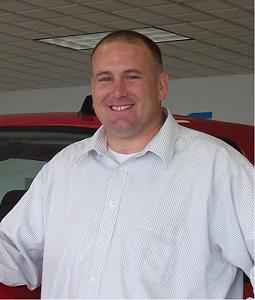 Craig Ford - Owner
Hello! I'm Craig Ford, the new owner who puts service and customer satisfaction first. My wife, Scarlett, and I have five children, so I appreciate the fact that I can depend on a service center that is trustworthy, reliable, value-minded and will work with each person's schedule. We at Pella Motors are that service center and your Chevy, Buick, GMC, Chrysler, Dodge and Jeep dealership. We have small town values, technicians that exceed factory training requirements, state of the art technology and FREE courtesy transportation. Call our Service Department today to schedule an appointment.
World Class Technician status is the ultimate achievement for GM Service Technicians.

Of all the GM Technicians in the nation less than 1% are World Class and we have 2 of them.

Certified Master Technician is the ultimate achievement for Chrysler, Dodge and Jeep.

We can proudly say we have the highest trained quality technicians in a 40-mile radius.

Hot Coffee and Fresh Baked Goods daily.

Customer shuttle service.

Customer Service waiting area.

Seperate play area for children.

We Appreciate the Opportunity to earn and keep your business!